HISTORY
MCSI was founded in 1997, with the purpose of creating automated health claim software. The company's founders were convinced that they could "build better mousetrap", and providing tools to automate healthcare transactions and the surrounding complex business rules became our primary mission. Our design goal was to ensure that the application allowed the end-user to manage and implement business processes without the need for custom software development. Claims examiners, eligibility experts, review nurses, provider relations staff and other domain-specific experts create better business rules than do programmers.
With that in mind, MCSI set out to create a configurable system where experienced business people could capture their acumen making it available and repeatable to business processes without risking that something will be lost in translation as it gets passed back and forth between the source of knowledge, various layers of business analysts and project managers, and finally to programmers. MCSI wanted to create a system with an intuitive approach to allowing experienced staff capture their knowledge directly into automated business rules.
The result was Impact. Impact, our flagship product has been automating claims processing, enrollment, cost containment and other benefit management procedures for some of the largest and some of the smallest TPA's, PPO's, and other claims handling organizations in the country, and Impact is still the engine that powers Visova and other MCSI products.
TODAY
MCSI is small by design. MCSI often partners with the customer's technical staff or other vendors selected by the customer, and MCSI usually has the smallest number of representatives in a project. This due to the fact that MCSI does not isolate technical staff in an ivory tower. MCSI expects its technical staff to truly understand the business problem and with that domain knowledge, our technicians choose the best tool for the job. Another reason for MCSI's smaller footprint is our "measure twice and cut once" mentality. Not only does this approach reduce the amount of staff required but also it creates solid processes that do not require ongoing attention to handle exceptions and outliers. MCSI prides itself on its professionalism and creativity.
EXPERIENCE
Our software and services have encompassed the entire gambit of healthcare transactions and processes from: enrollment, authorizations, case management, customer service, notifications, repricing, adjudication, capitation, payments, billing, reporting, reimbursement, ach/eft, banking, web services, system admin, and all things in-between. We are continually improving the mousetrap and expanding its features based on real world workflows and business problems. As an MCSI customer, you can expect an attentive, responsible partner who will stay with you through until your processes are battle-tested and you have peace of mind and confidence in their accuracy and stability.
INDUSTRY SEGMENTS SERVED
Preferred Provider Organizations (PPO)
Independent Physician Associations (IPA)
Independent Physician Organizations (IPO)
Physician, Hospital Organizations (PHO)
Exclusive Provider Organizations (EPO)
Health Maintenance Organizations (HMO)
Comprehensive Management Service Organizations (MSO)
Third Party Administrator (TPA)
Accountable Care Organizations (ACO)
Managed Indemnity Plan Organizations
Direct Contracting Organizations
Managed Care Organizations
Integrated Service Networks
Gatekeeper Environments
Open Access Environments
Closed Access Environments
Out of Network Negotiators
Specialty Risk Organizations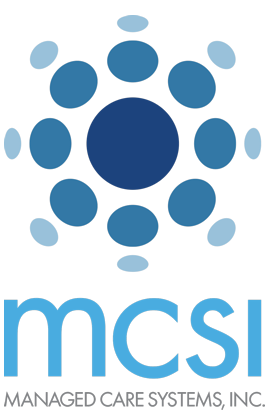 Our Executive Team
Dan has been delivering automated health care solutions since 1989. With his degrees in Computer Science & Business Administration from University of Nebraska Kearney, and with his vast experience in custom software system implementations, Dan provides MCSI with the solid foundation and leadership required to address the ever-changing business and technical challenges found in the automation of healthcare benefits. After college, Dan joined the Principal Financial Group as a software developer and over his five year career advanced to Senior System Analyst. After a 100 year flood struck Iowa, Dan relocated to the dry desert of Arizona and Joined Eldorado Computing. In 1997 Dan joined now retired partner, Ken Hoel, to form Managed Care Systems, Inc. with the goal of creating a fully automated benefit management system. His expertise in health benefits, software lifecycle management and enterprise level customer support services is invaluable to MCSI and its customers. Dan and his wife Monica live in AZ with their young children. He enjoys spending time with his family, cooking, gardening, fishing, hunting and other outdoor activities.
Scott attended Arizona State University where he earned his Bachelor of Arts degree in English, and he has been in the healthcare claims industry since 1997 when he joined Benefit Resources, a Phoenix, AZ area Third Party Administrator, which later became Harden & Company. Scott started out in premium billing and eligibility, including COBRA and HIPAA administration. Scott progressed at Harden & Company and became a part of the Marketing department while performing many IT tasks to fill a gap in staffing. Scott joined Managed Care Systems, Inc. (MCSI) in 1999 in a non-technical role, primarily focusing on business analysis and marketing. Scott quickly found himself once again performing IT tasks including technical support and programming. In addition to superlative dedication to supporting MCSI customers and their business processes, Scott has provided vision and leadership in the development of new features and products such as Visova. Scott enjoys gaining a deep understanding of the business problems and supplying elegant technical solutions. When Scott is not hard at work for our clients, he is spending time with his family, or he is pursuing a creative endeavor such as composing music.
After graduation from Penn State University in 1981, she developed her skills as an RN and subsequently became a Certified Case Manager. Margie joined MCSI in 1999. While working closely with Dan Beal, Margie built customer service and training experience relationships with clients that earned her the position of Chief Operating Officer in 2006. Margie continues to provide day-to-day oversight of the operations at MCSI, and leads the Customer Service and Project Development teams. Margie currently lives in Texas, where she engages in her hobbies of fishing and motorcycle riding. She enjoys travel and touring the country to find National Parks, new dining experiences, vineyards, and "small town America".